Most food enthusiasts are only known to love eating. Rarely do they spend time in the kitchen honing their cooking skills. However, with the pandemic going on, virtually everybody is turning to YouTube to learn a thing or two about cooking. If you are looking to channel your inner chef and actually make something of your love for food, there are a bunch of things you could consider taking up. In this article, we shall take a close look at 5 excellent home based business ideas if you want to set up an online food business.
1. Become A Personal Chef
So, you love cooking and are known as your household's Gordon Ramsay. But, have you ever considered taking it up seriously? That does not necessarily mean you work as a chef in a busy restaurant with hordes of people lining up at the gate. You could become a personal chef. Contrary to what you might believe, personal chefs are in demand.
There are many busy families who can't or don't want to cook. They'd much rather hire someone to do it for them. Some of them arrange for a catering service, while others who can't stand them prefer to have someone working for them.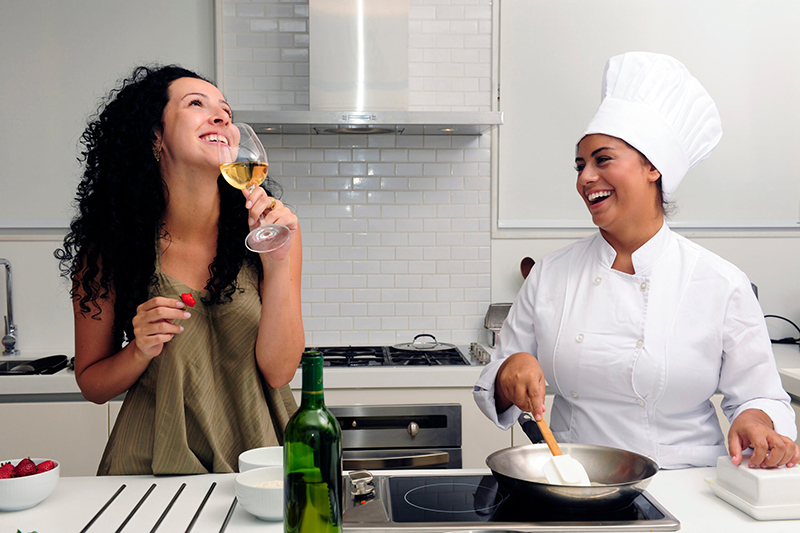 In such a situation, they would probably tell you exactly what they want and expect you to whip it up in the kitchen. If you already have a diverse cooking menu at the back of your mind, taking up a task like this shouldn't be too hard. Oh, and it pays well.
2. Catering
Why not start a catering business? If you think you can whip up a variety of sizzling dishes and make a menu of them, catering is probably the way to go. However, you need to be down to handle big, strenuous tasks since catering is generally for events or large households. Besides that, you may have to work on weekends because chances are a large chunk of your orders will come your way during the weekends.
If you do want to take up catering, be sure to specialize in a niche or cuisine that you can pull off well. After all, you want your food to be authentic and get your customers come back for more. Also, make sure you have people who can help you with your catering business because this is rarely a one-man show.
3. Nutrition & Fitness Coach
Maybe you don't cook at all. Maybe you don't want to, but you sure know what to eat and how to take care of your body. Fortunately, there is a large target audience for this. Most people on the planet are unfit. One half of the population skinny while the other is fat or obese. In other words, they don't know what to eat and have poor dietary habits. If you do not fall into either category and you know how to take care of your health, you can consider becoming a nutrition coach and spreading the message to others.
The more authentic and useful information you put out, the more likely you will have clients reaching out to you to help them with their health and fitness goals. Even if you are not a doctor, you could consider getting a nutrition coach certification by one of many authentic nutrition coaching institutes.
4. Bake and Sell
Here's something that never goes out of style – baked goods. Breads, biscuits, cakes, cookies, doughnuts, etc., have been around for a long time and here are to stay. If you are good at baking, you are already halfway there. Come up with a menu that you know your customers will love and start baking and selling.
You could start an exclusive cookie business or one for any other baked good. Maybe you could make gluten-free or vegan products. The options are endless. Figure out your niche and style and start baking. You might get to a point where you have too many orders to handle. If you are already there, start selling them to restaurants, local cafes, or you can set up your store online.
5. Food blogger
This one's for you if you love to eat and write. As you probably know, you can make tons of money from a blog that is doing well. Of course, you would have to create fantastic content for a niche that is in demand, and food happens to be one. Consider creating recipes, writing reviews, comparing cuisines from different countries, and so forth.
In other words, create something helpful that will attract readers in numbers and do it consistently. Once you have a sizable following, you can raise your income through advertising, coaching, creating your own products, affiliate marketing, and so on.
Conclusion
The options are endless if your world is food. Other notable business ideas include becoming a cooking instructor, making and selling specialized goods that you are good at, etc. Since food will never go out of style, you can do pretty much anything and make money around food if you do it well and consistently.
And hey, if you don't know where to start, you are only a few newbie guides away from knowing everything you need to know to get cracking on your food business.