It is quite the experience of being a new mother. Even though you were initially confident that you would be able to handle it at all, we are sure that you are now in a position to accept any help that you can get. Don't worry. We have got you covered. Here we bring you a list of the most innovative and useful products that every mother should be used to make her life just so much simpler. These products will make your parenting experience just a little easier and way more enjoyable.
#1 Rocking Chair and Cradle in One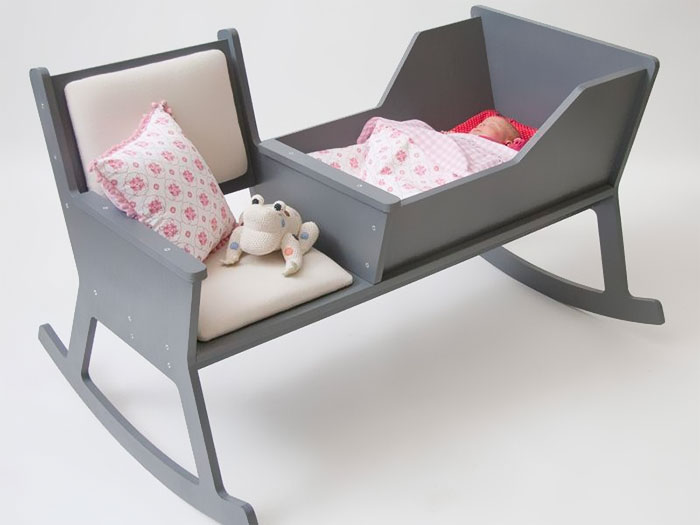 Yes. Exactly what it sounds like, this is an innovative and space-saving product that fits very essential aspects of early parenthood into one super-device. You can relax with your baby on the rocking chair and put them to sleep and stay by them when they sleep while you read or do your own thing. You can keep rocking the cradle by just rocking yourself back and forth. Putting your baby to sleep just became a less nightmarish task compared to what it usually is.
#2 Bath Saver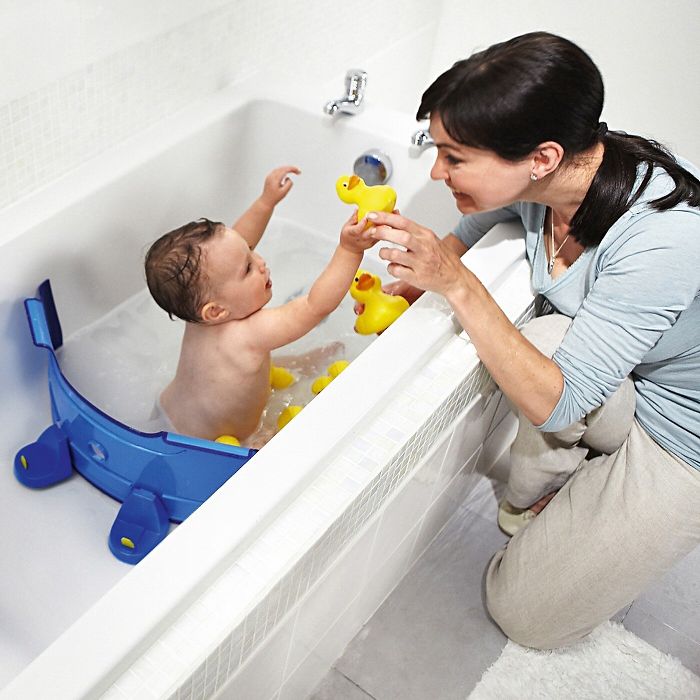 There is always great apprehension during bath time because of the large size of the tub compared to the extremely small size of your baby. Using the bath saver, you can limit the baby's space within the tub while also giving them sufficient room to splash around. You will also be saving so much water because you don't need to fill the whole tub anymore. This has been designed to fit any standard US bathtub and makes the whole bath experience extremely comfortable for the parent as well as the baby.
#3 Single Handle Extender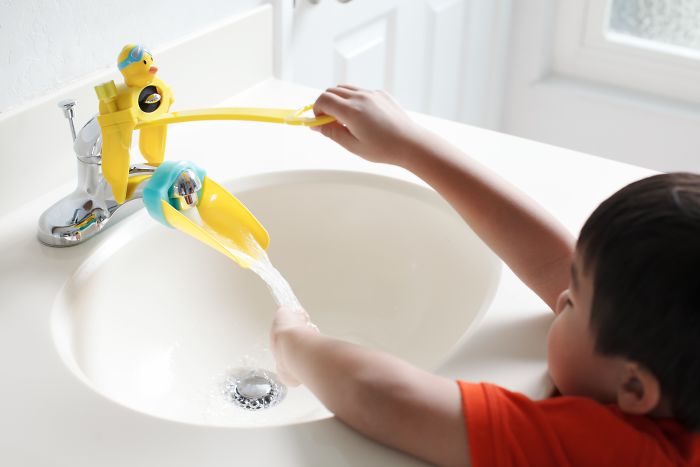 This has been designed to teach your babies early on the importance of washing hands and making the process so much more fun for them. You can easily attach this to your sink or faucet and help promote independence in your young one at an earlier age. It has been designed keeping in mind the safety of your child and it will not allow them to turn on the hot water. Your toddler constantly gets messy and will need to wash up very often. With the pandemic going on, cultivating hand-washing habits has become more important than ever. This is a wonderful device that makes the whole thing much easier for you.
#4 Portable Baby Crib You Can Attach to Your Bed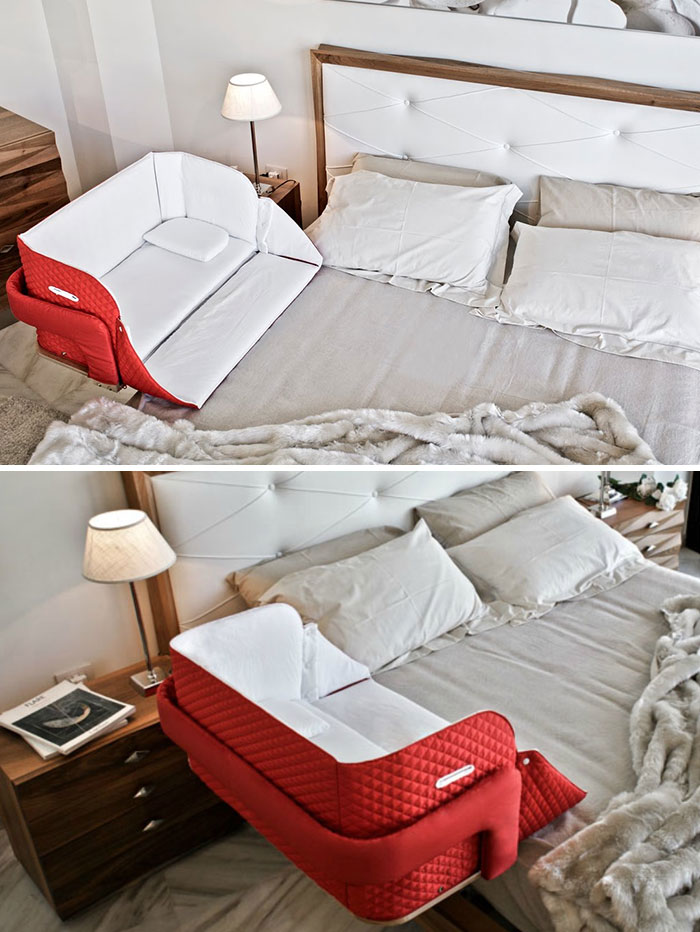 This is a very versatile product that can be converted to multiple handy carriers for your baby as well as a play-mat when required. It comes with four-sided protection that makes it a safe baby bed. You can attach this to your bed comfortably. When you fold out the sides, you can convert this to a waterproof changing station, a play mat or even a compact travel bag! You can get creative with this multipurpose product that proves to be very handy for new parents. It is comfortable for children who are newborns up to one year of age. It is very ideal if you need to move your baby around a lot.
#5 Cosy Cuddler Pregnancy Pillow
This is a maternity pillow that supports your whole body. The body rest area has been comfortably shaped and the headrest is a large pillow. Falling asleep during pregnancy can be difficult. This pillow helps in keeping you as comfortable as possible so that you fall asleep easier. When the baby comes, you can comfortably use this as a nursing pillow. You will enjoy comfortable cushioning while keeping your baby safe during nursing. This pillow is meant to support heavyweight and has been designed exclusively for the comfort of expecting and new mothers.
#6 Bikes That Double as Strollers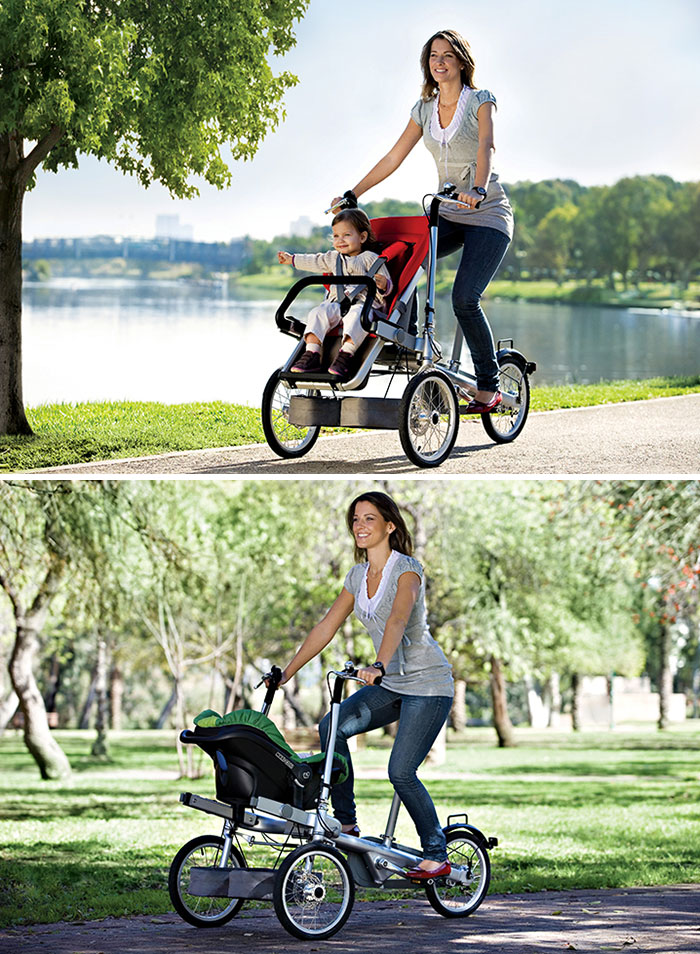 Motherhood can be an outdoor fun activity as well, and proof of this is the advent of clever devices such as this one. With a bike that can also be used as a stroller simultaneously, you can take your baby around comfortably. Both of you will have a lot of fun using this method of transport. You can position your baby safely in the stroller while you ride them around. This is also a great way to get in some exercise without having to worry about what your baby is doing.
#7 Baby Food Dispensing Spoon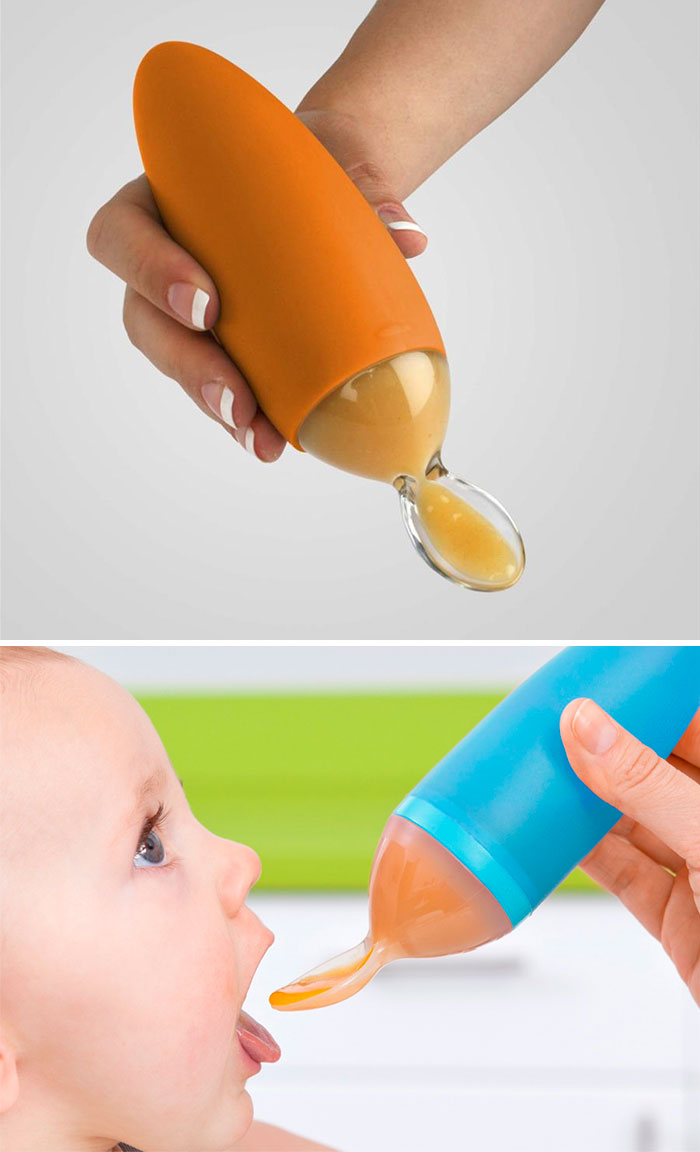 You don't need any separate jars for storing your baby's food. With just one innovative device, you can get the food out and feed them as well. Just think about how much mess could be avoided by using such a feeder. All you need to do is squeeze the food out periodically so that your baby can eat right from the spoon. This spoon is very easy to clean and can hold up to 3 ounces of baby food. You are converting a very time-consuming experience into a one-handed single gadget expert move!
#8 Bed for New Parents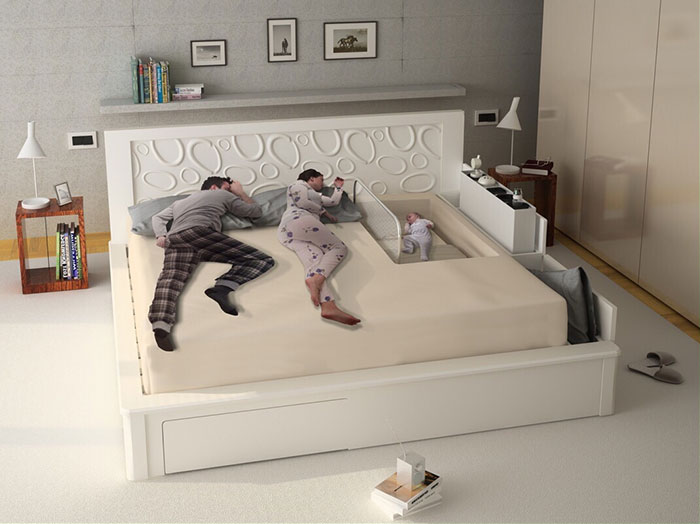 Keeping your baby in their nursery or another room can be quite stressful especially when they are so young. You will most probably be staying up all night listening to the baby monitor. We can all agree that it is much better if the baby just sleeps with the mother. Keeping in mind the safety of the baby and the comfort of the new parents, this bed has been designed with a special partition that prevents you from rolling over your baby thus alleviating all safety concerns regarding this matter. You, your partner and your baby can sleep in peace together, until of course you are woken up by your little one.
#9 Baby Mop Onesie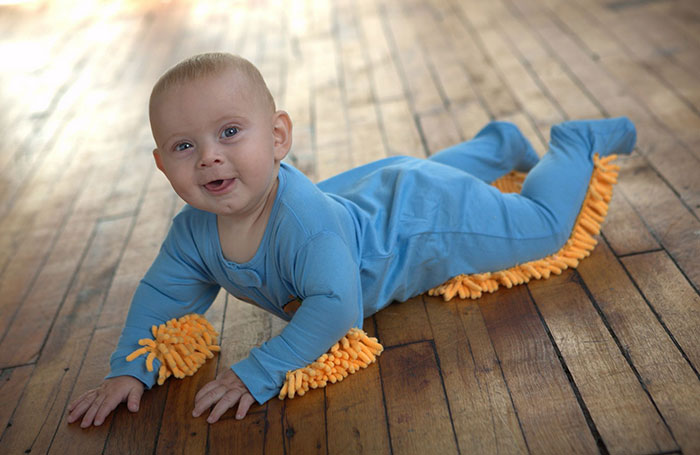 Well, your baby is going to be crawling all around the place, might as well get into keeping the place clean! Your baby will be wearing this onesie that is very comfortable for them. The best part is, they don't even know that they are being part of household chores. Let them expel all their energy by moving around the house as much as they want. They will be saving you that much cleaning time as well. This is ideal for toddlers between 8 to 12 months of age.
#10 Infant Seat That Replicates Parents Natural Motions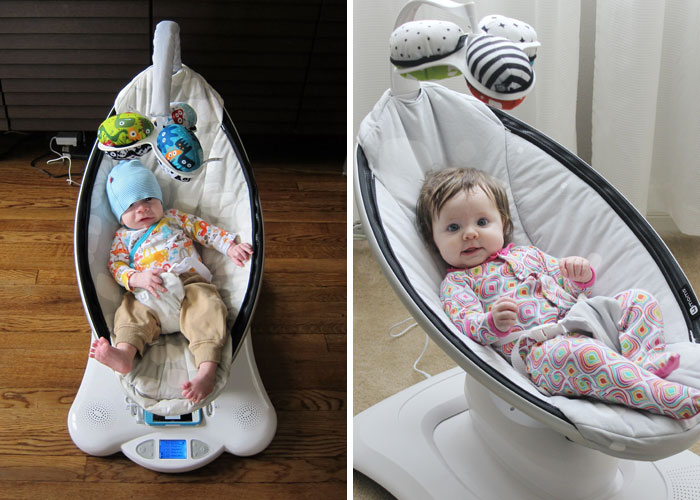 This has been cleverly designed to mimic human motions such as the ones that new parents generally have. This will rock your baby side to side and back and forth. It sways from side to side and moves just like you do to keep your baby as comfortable as possible. There are five preset unique motions that you can select from to produce the experience that you want your baby to have, whatever works for them to calm down and feel happy. You also have built-in sound effects or can connect MP3 to enhance the experience for your child. You control everything on this seat.
#11 Clothes With A Built-in Activity Monitor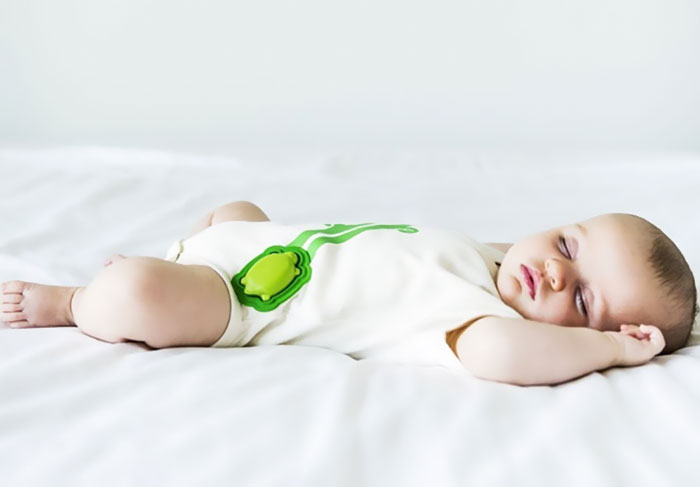 As unique and innovative as this sounds, it is extremely helpful in helping you relax and take it easy during the night. We know that you cannot resist checking in on your baby even if the baby is sound asleep and not disturbed. Why not get a full profile of what your baby is up to when you are away through this unique wearable monitor? Alerts will be delivered right to your phone and movements, sleep patterns and vitals of your baby are recorded and can be monitored. If you have anything to worry about, you will be notified immediately.
#12 Illuminated Jetbib Feeding System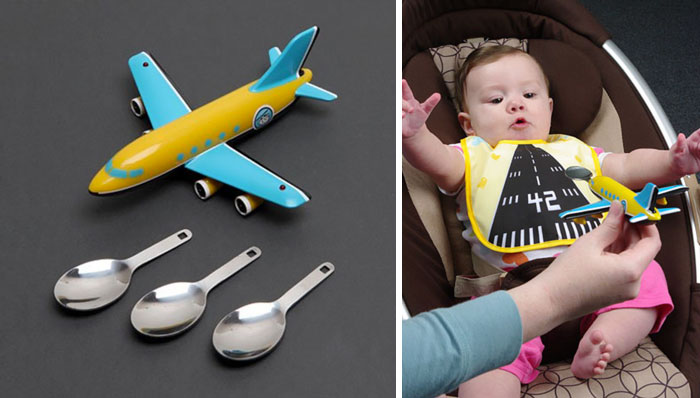 That's right. You don't have to pretend that the spoon that you're bringing towards your baby is a plane. You can feed them using this creative feeding system that makes it look just like the baby's food is flying towards them. The bib has been designed in the pattern of a runway. You can attach detachable spoons to the flying device. This makes for a fun feeding experience that your toddler and baby will truly enjoy. They will be very entertained and when they are older, they will have a lot more fun eating as well using the same.
#13 Food-Holder Can Handle Sandwiches And More Without The Mess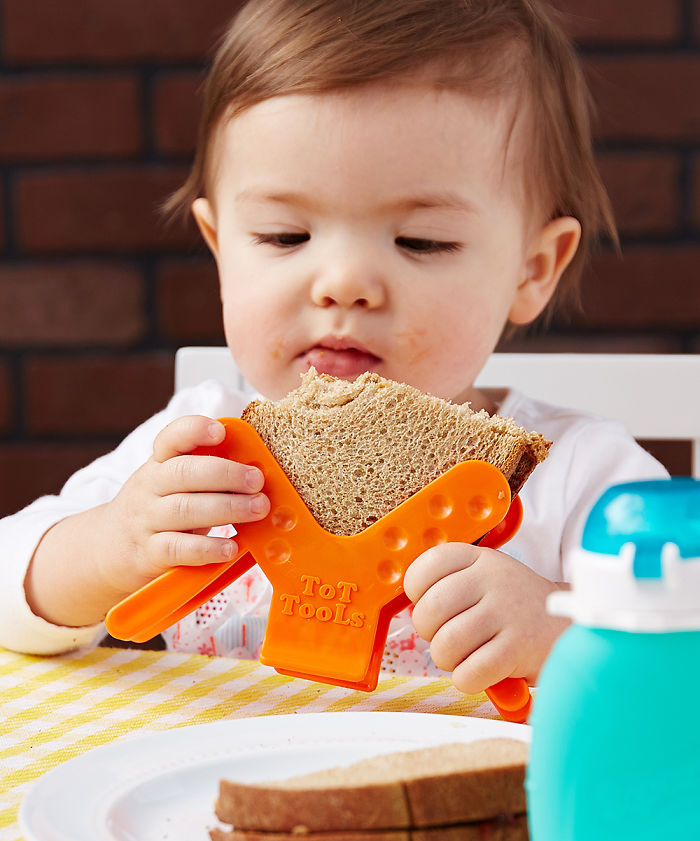 Eating a sandwich without making a mess is quite a task for an adult, let alone a baby. This food holder will help your baby handle sandwiches and other messy food that they are just learning to eat without causing much trouble for you. Your baby can hold them comfortably with both their little hands and enjoy their meal. You can feed them sandwiches, waffles and a lot more using the food holder.
#14 Smart Changing Pad That Tracks Your Baby's Weight And Growth Data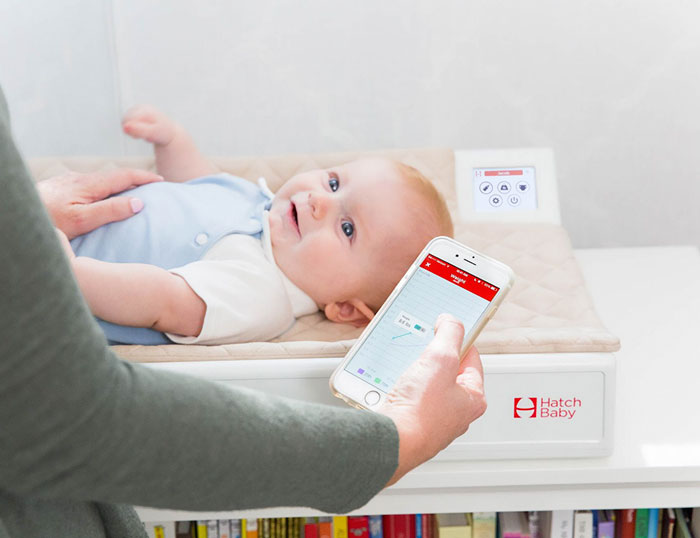 You can do so much using the smart changing pad and the accompanying app that lets you track so much information about your baby as they grow and change. You can check whether they are growing appropriately according to WHO standards and also track their weight constantly. How many times you changed their diaper will be locked automatically into the application. You can share this information with your pediatrician or healthcare provider using the simple and easy sharing tools available in the app. You can't even identify if your baby is receiving enough milk through breastfeeding using the changing pad.
#15 Color Changing Nightlight With Portable Glowing Balls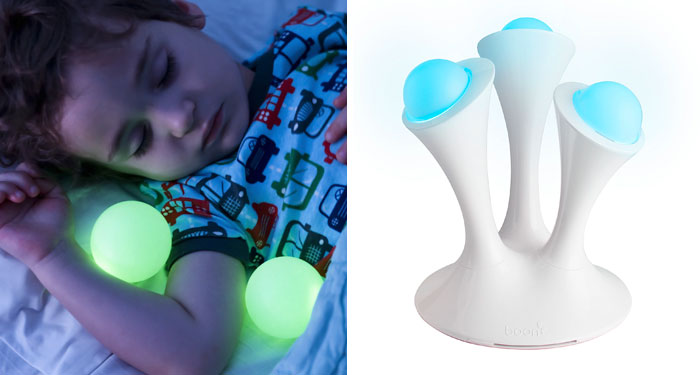 Kids are easily entertained and bright shining things are the best way to distract them from the fact that they have to do mundane things like following a routine and falling asleep. You can get your children to go to bed easier when you have entertaining toys that are exclusive to bedtime. The color changing nightlight is one such gadget that has removable glowing balls that are non-electronic and safe for your child to play with.
We hope that this list of products helps you in some way to ease your parenting experience and make it more fun for you and your little one. They have all been designed keeping in mind the essential requirements of new parents.